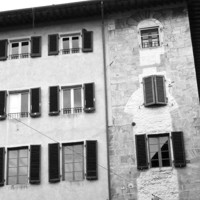 Home
>
In and around
House of the Jew in Pisa
House of the Jew in Pisa is located near the Tower of the 14TH century
Was inhabited from the late Campanian.
the second half of XVI by families of Jewish bankers.
In 1360 format was the Union of two houses and a tower, whose structure is still visible on the right side of the fašade.
In the second half of the 1400 modernisation and renovations make it a sumptuous residence, more elevated, with a large and cloister and an external hydraulic system that made it possible to bring water to the various plans.
In addition to housing from 1395 there was a thriving tour and loan from 1407 to the second floor, a synagogue.

house of the jew in pisa